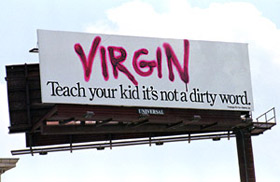 A congressionally commissioned study on abstinence programs concludes that:
"Students who participated in sexual abstinence programs were just as likely to have sex as those who did not."
In fact, the data shows that "those who attended one of the four abstinence classes reviewed reported having similar numbers of sexual partners as those who did not attend the classes. And they first had sex about the same age as other students -- 14.9 years"
We spend almost 200 million dollars a year on these programs.
The Bush conclusion:
Officials said one lesson they learned from the study was that the abstinence message should be reinforced in subsequent years.