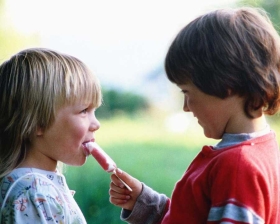 Weird Pic huh? A google image of "kindness"
So this
Slate
piece is like the gift that keeps on giving. There are heated discussions about it on blogs (including LawProfs) and the amazon ranking for the book shot up crazily (and yes I really did check). And then today, just as I was feeling a bit blue (for reasons I'll omit here), I got an e-mail that really made my day. Here's what it said:
The day that your book appeared in my mailbox at work... I had ended a long week in court with a difficult judge. I got an envelope with your book and a note from my former training attorney that said he thought I could relate to what you went through and that you wrote well about the struggles of being a public defender....

I read your book in two days. I couldn't put it down. I started shouting out loud while I was reading at some points, I read entire paragraphs to my best friend here at the office, and I passed it along to another good friend here as soon as I was done. Your book reminded me that even hard-working, super-talented lawyers like you feel like case processors a lot of the time. It reminded me to appreciate the small victories. It made me want to go to work the next day and be a better lawyer.
Wow. It doesn't get much better than that.
Thanks.