A man who served three-and-a-half years in prison on a conviction for illegally re-entering the United States was actually a citizen and
never should have been deported in the first place.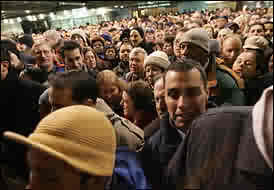 In a case of mistaken status, Duarnis Perez faced a second deportation before the government told him he was in fact a U.S. citizen.
Even after discovering his status, federal prosecutors fought to keep him in custody.
"In effect, the Government is arguing that an innocent man who was wrongly convicted should not be released from the custody of the United States,'' U.S. District Judge Lawrence Kahn wrote.
What asinine Assistant United States Attorney would make such an argument?
It's
Assistant U.S. Attorney Sara Lord
a harvard law grad and Rhodes Scholar who by dint of such grotesque argument brings dishonor on both institutions. (That link is to her wedding announcement which detail her rather privileged background and her marriage to..you guessed it, another prosecutor.)